It's a busy time, but there is also lots of fun stuff happening! Besides my move to Powerdobs earlier this year, there are also several interesting conferences that caught my attention! Let me tell you about them.
SQLBits
For starters, at the beginning of this month there was SQLBits, were I (virtually) presented a session called Power Platform Better Together: Create a Scoring App with a Live Dashboard. In this session I showed how to use Power BI, Power Automate and Power Apps to create an interactive application.
If you don't know SQLBits, it's the greatest Data conference in Europe, spanning a whopping 5 days, including the free community event Saturday.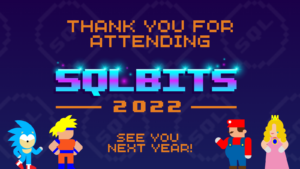 Here's a few stats from the conference:
Over 450 hours of training delivered
232 speakers, over 25% of whom identify as diverse in our industry
67 helpers
Over 1600 attendees Tue-Fri, with almost 2/3 in-person
Plus another 900 registrations for the free Saturday
Attendees from 38 countries
Over £8K raised for Ukraine, in support of our two Ukrainian speakers and our Ukrainian helper
Session recordings are still being worked on and will become available for registered attendees. But, in case you missed out, slides are already available at their website.
Power BI Global Summit
I bet the Power BI Summit is known to you all, it is the biggest Power BI conference in the world. A multi-day event with speakers from the Microsoft Power BI team's product group, community experts and MVPs from all around the world. This time I had the honor of hosting a Table Talk around the topic of Power BI Service Administration and beyond at the Global Power BI Summit, with my friends Tom Martens (@tommartens68), Štěpán Rešl (@tpnRel1) and Benni De Jagere (@BenniDeJagere). We actually did it twice that day, in the morning and the evening, to accommodate all time zones across the world.
There was a lot of interaction, people asking questions in chat but also coming on camera for a live chat. We even got some people answering questions from time to time, which is great for the engagement. And that way I also learned some new things!
MVP Summit
Although every conference has its perks, I am pretty sure this is the one I'm most excited about!
As a Microsoft Most Valuable Professional, you are eligible to attend the MVP Global Summit once a year. The event features a large catalog of in-depth technical discussions and feedback sessions, directly with the Microsoft product teams and engineers.
The MVP Award is a global program of recognized technology experts and community leaders who actively support technical communities through unique, innovative, and consistent knowledge sharing. These community leaders actively contribute to support the developer and IT Pro communities worldwide, helping them learn, build, and use our products.
My expections are high! There will be a lot of demonstrations of functions and features that are not yet publicly available. Of course there are strict Non-disclosure agreements on all sessions on the MVP Summit but that won't spoil the fun.
Due to the fact that the world is still not 100% back to normal, this year the Summit is still virtual, so the organizers are trying to accommodate all time zones. Most sessions are roughly from 4 PM until 5 AM here in Europe, so that's going to be a tough three days ahead… ?
Power BI Gebruikersdag
Last but not least, this week also marks the start of the famous annual Dutch Power BI User Day: Power BI Gebruikersdag. It's a great community event with lots of local attendees and speakers. I'm delighted to be presenting 2 sessions there:
A (big) look into Query Folding on Deep Dive Friday! I've done Query Folding before, but this is a 2-hour long session going into (all) the depths! ?
Write-back with Power Apps in Power BI on Saturday, which is a new session, showing off
Check the full schedule for all the sessions!